Problem:
The keypad does not want to twist very easily.
Cause:
The spindle length is to long. Parts of the keypad are rubbing against each other and causing friction. Mechanical problem with the keypad.
Solution:
Remove the keypad and examine the spindle length making sure that there is not pressure getting exerted on the lock body. Note:A locksmith is recommended to perform this action. Add (G3-22L) lubricant to the plastic portions outlined in the pictures below.To obtain this special lubricant please contact General Rubber & Plastics.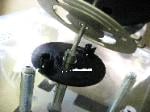 Contact your safe manufacture or a safe and vault technician for further assistance.
Applicable to:
Z02, Z03 D-Drive